1

Buying a used 35mm SLR camera and Photography supplies
Tips on buying a used 35mm SLR camera
Unfortunately, you can only find used 35mm SLR cameras. But don't worry! There are plenty out there!
If you just enrolled in a class do not buy anything before your instructor approves it. Send them a link.
What you are looking for is an SLR 35mm film camera with a lens (preferably 50mm).
The best way to find a camera is to ask family and friends or ask classmates who took the class already. Use your social media platforms. Remember you are looking for an SLR 35mm film camera with a 50 mm lens.
Below is a list of vendors we suggest:
Catlabs camera exchange https://www.catlabs.info/category/35mm-cameras-and-lenses
Depop www.depop.com
https://www.depop.com/search/?q=SLR%2035mm%20film%20cameras
K&M Camera https://kmcamera.com/collections/used-photography
54 Orchard St New York, NY 10002 212-523-0954 800-343-9826
Adorama. http://www.adorama.com
42 West 18th Street, New York City, NY 10011.
B&H Photo Video http://www.bhphotovideo.com
420 9th Ave, NY New York 10001
KEH cameras https://www.keh.com
You may also try eBay and Amazon but make sure you check the reputation and the reviews of the vendors
Informative video about buying a camera on eBay
We understand you are concerned about buying a 40+-year-old camera.
Below is some advice to ensure that you are getting a film camera in good working condition.
Look for reputable sellers. Check their reviews and ask questions.
Stay away from sellers who do not clearly state the camera is in working condition unless the price is so low and you are willing to take a chance.
Here are some questions you should ask yourself and the seller:
Does the camera require a battery to work? If yes make sure you buy the correct battery for it.
Has the camera been tested with film?
Does the aperture work properly?
Do shutter speeds work properly?
Is the lens clean and free of fungus and scratches?
Does the light meter work? This last question is important but not so critical if the price is right. There are ways to use an SLR camera without a light meter.
When you find a camera you think has all you need, and it is offered for a good price, take a moment and download the instructional manual. You can find it by googling the brand and the model.
Try to determine if this is what you are looking for. Is it a mechanical 35mm SLR or an electronic one? both types will work for your class. If it is a point-and-shoot or a disposable camera or a toy plastic camera don't buy it. You should stick to a 35mm SLR mechanical or electronic with manual capabilities and a 35mm lens.
Not ready to take photos yet? Are you waiting for your camera to arrive?
What if you were to make your first photographic image without a camera or film or a negative? It is easy, and fun, and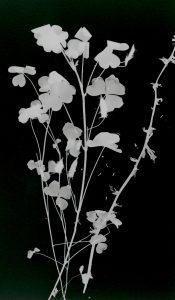 you'll get a chance to get familiar with the darkroom protocols, the chemicals, and the paper-developing process. What we are suggesting is to make a photogram. To learn the What How and Why of a photogram check chapter 17 Photograms in Part III PHOTOGRAPHIC PROCESSES.
Popular vendors to buy your basic supplies:
Other essential supplies you will need to purchase or acquire are 35mm film, a film-developing tank with reels, and B&W RC photographic printing paper.
Below is a list of suggested vendors:
Ask for a student discount and bring your College ID especially if you are shopping in person.
K&M photographic supplies
https://kmcamera.com/collections/film-darkroom
54 Orchard St New York, NY 10002 212-523-0954 800-343-9826
FreeStyle Photo: https://www.freestylephoto.biz
Adorama http://www.adorama.com
42 West 18th Street, New York City, NY 10011.
B&H Photo Video http://www.bhphotovideo.com
420 9th Ave, NY New York
Recommended camera repair shop in NYC:
Nippon Photo Clinic
37W 39th street suite #401
212 982 3177, 212 736 4663
Photo Tech Repair Service
575 EIGHTH AVE SUITE 1706 (17th floor) NYC, NY 10018 ·
PHONE: (212) 673-8400 ·
EMAIL: service@phototech.com · Mon – Thur 10AM – 6PM, Fri
Specialty Photographic Repairs Services
629 Fifth Ave Suite 215,
Village of Pelham, NY 10803